Gareth Miller ManaginG Director -Carswell Gould
As MD of Carswell Gould, Gareth works with some of the UK's most ambitious brands and world-class creative minds.
His career has spanned both agency and client-side roles and, over the past twenty years, these experiences have given him rare insight into the marketing strategies and tactics that really help businesses succeed.
Gareth's primary focus is to execute marketing communications that deliver an outstanding return on investment for his clients. To achieve this he keeps the agency looking to the future, anticipating trends and providing considered long term solutions.
STEVE NORTHAM,
DIRECTOR -
SN TECHNOLOGIES GROUP
Steve is the Director of the SN Technologies Group, an investment company dealing within a wide range of start-ups businesses.
Steve splits his time between his role as Senior Lecturer in Business Management at the University of Winchester and as mentor/investor with his company portfolio which includes IncuHive, who operate multiple business incubation centres, and the well published company BioTeq, a human technology implant specialist start-up operating in the UK.
Peter Taylor,
Managing partner -

Paris smith
Peter works with and for a range of aspirational and dynamic businesses using his skills and extensive network to enable his clients to achieve their business goals and objectives. Peter advises companies not only as to the options open to them, how to resolve disputes but also how organisations might manage their business better, aware of the legal risks they each face or may face and managing these risks.
"I passionately want my clients to succeed in all that they do and in doing so to minimise the need for the distress purchase of legal services but to engage lawyers for positive reasons."
Peter is a CEDR Accredited Mediator.
RichaRD W Roberts, CO FOUNDER - Ocean Saviour
Richard is CEO and co-founder of TheYachtMarket.com. Like so many of us, he was left devastated by the incredible BBC Blue Planet series presented by Sir David Attenborough and produced by James Honeyborne.
When the concept for Ocean Saviour was launched at the 2018 Southampton Boat Show, Richard commented:
"It's staggering to think that there is currently over five trillion pieces of plastic in the ocean which is having a huge detrimental impact on our ecosystem and the ocean's biodiversity. It's essential that we remove plastic before it breaks down into microplastics and, through Ocean Saviour, we aim to help eradicate the ocean of this problem."
Mike O'Neill, Group Managing Director - Optimal Risk
Mike O'Neill is the Managing Director of BSIA member Optimal Risk Management Limited, a risk and security management consultancy, and the Chairman of the BSIA's Specialist Services Section.
After leaving the British Army as a Major in 1990, Mike developed a second career in risk and security management consultancy.
He has operated around the world on: risk and threat assessments, security reviews, security system design, crisis response, contingency planning and security planning. Mike was also one of the first ten registrants admitted to the Register of Chartered Security Professionals in June 2011.
He is a Fellow and past Director of the Security Institute and holds the ASIS Certified Protection Professional (CPP) and Physical Security Professional (PSP) qualifications.
Graeme McGowan, Director - optimal risk
Graeme took early retirement in 2008 from a Government Intelligence Agency. During his final 2 years Graeme was seconded to the Home Office post-7/7 as the first Senior Government Communications Officer and also responsible for developing the Code of Practice for, and the enactment of, RIPA Part III, which provided Law Enforcement Agencies and Public Authorities the appropriate legal powers to access encrypted data.
Since 2008, Graeme has held a number of successful Directorial roles and is currently Director Cyber & Security Risk for the Optimal Risk Group, CISO and Senior Tutor for the Global Cyber Academy, CISO for the Sokin Group and is also a member of the London Chamber of Commerce & Industry Cyber Working Group.
Paul Holland, CEO -Beyond Encryption
Paul Holland is the CEO and founder of Beyond Encryption, a specialist secure digital messaging and engagement platform, harnessing patent pending technology to hand back control to companies and consumers in their everyday communications.
Paul's career started in electronic engineering, turning his attention to software development for the financial services market late in the 1980's and founding 'Webline' in 1995, one of world's first internet comparison websites,
Webline developed into a pre-eminent online Retail Financial Services quotation platform, ultimately being acquired by Capita's Financial Services Division in 2006 where Paul remained in a non-executive Chair capacity until 2009.
Paul ringfenced certain technologies from Capita through that acquisition, namely 'Beyond Encryption' and 'AllMyPlans', the latter ultimately merging with Runpath Digital, a Fintech innovation firm powering a number of prominent online brands seeking to engage / monetise high volume audiences.
Runpath Digital was acquired by Experian in 2017 when Paul exited the business to focus entirely on Beyond Encryption.
Andy James, CEO - Custodian 360
Andy James is the CEO of Custodian 360 and a seasoned security professional and leader in his field. Andy specialised in End Point protection along with playing an active role in security education, programs design and architecture, compliance, privacy and vendor vulnerability assessments.
Andy has a passion for helping small businesses understand the why, what, when and how of security.
In my current role as CEO of Custodian 360 I developed a unique, fully managed, endpoint security system that monitors your network for threats in real time, backed up by a dedicated team of security analysts.
In the live panel discussion I am planning to discuss why traditional Anti Virus is less effective against the latest next generation threats and how the cyber threat landscape is changing by the minute.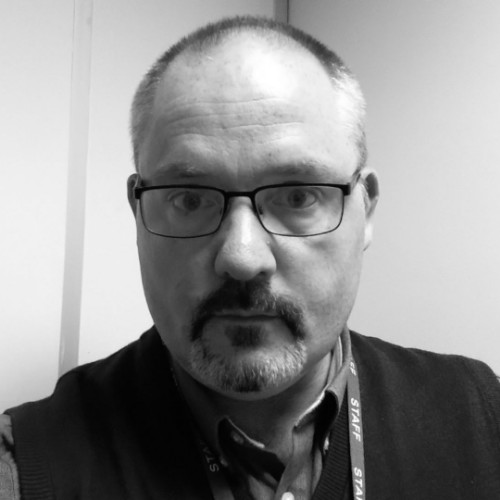 Stephen Haslett,
Cyber Forensic consultant -
fusion forensics
Stephen Haslett is Fusion's Cyber Investigations Consultant. Stephen has concluded 21 years colour service with the Royal Military Police (RMP) including 15 years in the Special Investigation Branch (SIB). With over 12 years of his military career spent in digital forensics, he is highly proficient in all major disciplines having been involved in prosecution, defence, civil and corporate investigations as well as incident response.
Stephen is also a fully qualified Covert Internet Investigator (CII), OSINT practitioner, ISO27001 Lead Implementer and GDPR Auditor.
Stephen now specialises in conducting investigations into cyber security events and data breaches.
Ross breckenridge, managing director - Breckenridge, the growth agency
Ross is well-known as an inbound marketing expert and loves to impart his considerable knowledge and expertise to people looking for proven methods of growing their business.
Inheriting a thriving traditional agency with over 35 years of successful trading, Ross's innovative forward thinking has inspired a team of award-winning marketeers who provide outstanding digital services, alongside a wealth of creative skills.
Ross is a qualified journalist, coming to his current role through content, SEO and sales. He travels far and wide to join like-minded inbound experts across the world.
'I'm passionate about helping our clients achieve their growth goals. I regularly give talks and provide training around inbound methodology as part of a sound and effective growth strategy. Delivering measurable return on investment is our business.'